What if San Francisco's housing stock could wear another layer of residential development?
San Francisco has a density problem. Typical solutions revolve around high-rise, high-cost models that often require the displacement of existing structures. A solution may be found in accessorizing. The iconography and trend culture of the fashion industry should be appropriated by architecture, to usurp the NIMBY attitude of San Franciscans with one of couture aspirations and status symbols with a hidden public good. This proposal aims to re-contextualize the ADU from the "Granny Suite" or Coach House to that of a new fashion for the single family home. Like the designer hat or sunglasses that provide a low-cost entry to the fashion houses, Accessory Dwelling Units may provide an accessible avenue to add housing to areas of the city where
multi-unit construction is not appropriate.

The Accessory Dwelling is represented here by three extra-small house typologies, to apply to a wide range of San Francisco house types. The Fascinator, a roguish street facing walk-up employs a shifting floor plane and floating volume that contains the sleeping space. The more discreet, backyard facing Cap unit is characterized by two volumes that shift against each other to define private and social spaces. The street-level Kicks is an accessible unit with operable front facade, that "plugs" into a typical single car garage. The variety of types and forms offer a range of fashion choices through which to re-frame the ADU from a discreet extension or source of supplemental income to a status symbol.
Fascinator | Street-Facing Walk-up Accessory Dwelling Unit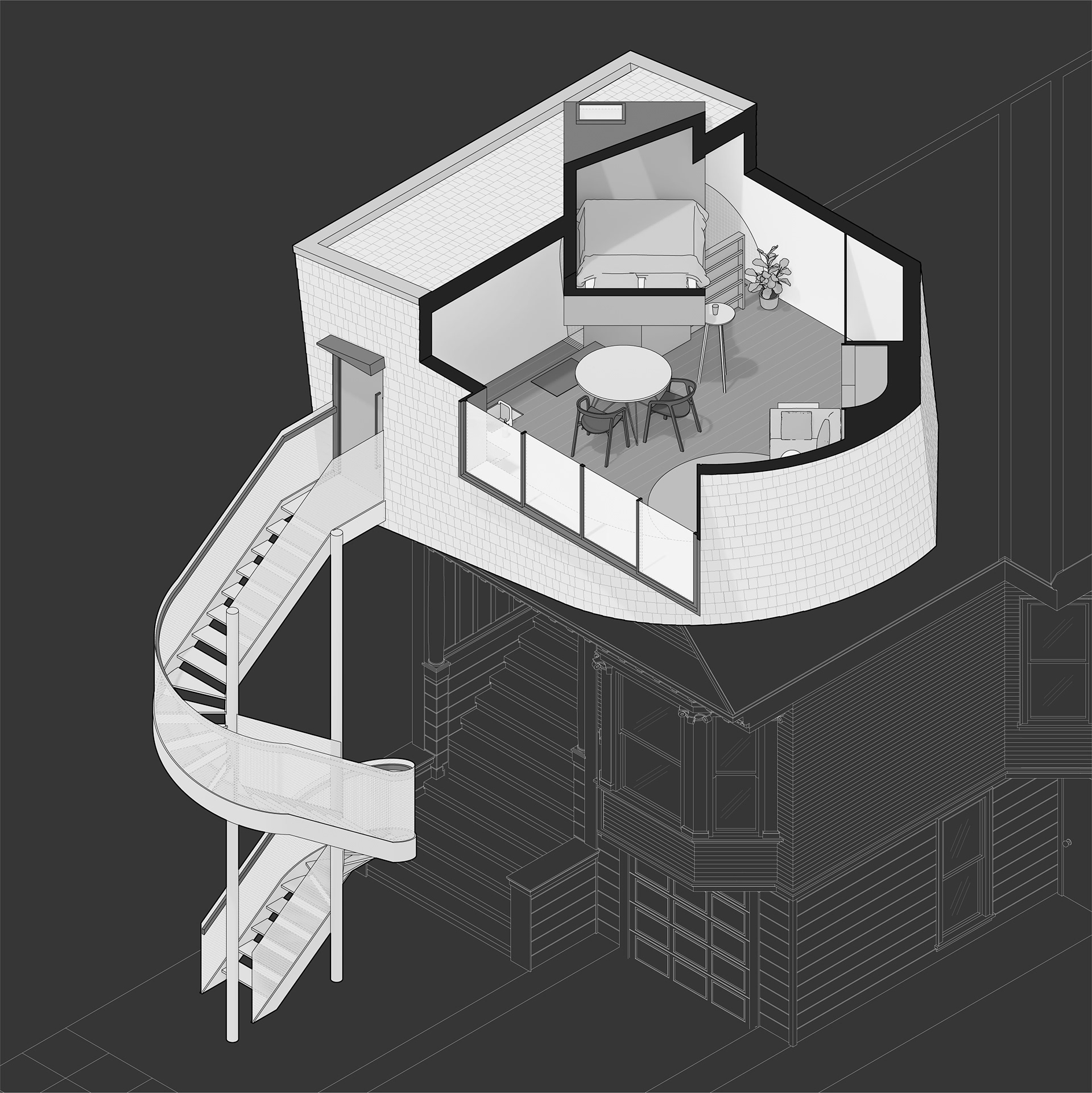 Cap | Rear-Facing Walk-up Accessory Dwelling Unit
Sneaker | Accessible Street-Facing Accessory Dwelling Unit
The Current Housing Stock Has Room To Grow
San Francisco's housing stock consists of around 400,000 units, with demand vastly outstripping supply, yet a mere 141 Accessory Dwelling Units were added In 2018.1 There is a vast cityscape of untapped potential. Accessory Dwellings could increasing housing stock by 25%-30%, with the dual benefits of offsetting housing costs for homeowners, while the increased supply would drive down the cost of housing. For the typical homeowner, the relative decrease in home value may be offset by the value added through accessorizing. Accessorizing larger, multi-unit developments would further expand the potential of this strategy.